Welcome to NATURESFACE ART
The Gallery of Australian Artist & Photographer Gerhard Hillmann.
Naturesface Art
Here is a beautiful spider eating a katydid. Not exactly sure which species this is though Minibeast Wildlife. You can tell this one is fast because of the racing stripe. Anyone who does not like spiders, im pretty sure they dont like you either. ... See MoreSee Less
3 days ago
View on Facebook
Handmade ARTCARDS
Blank on inside, minimal text on back, recycled paper envelope, high quality.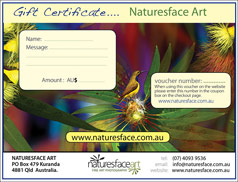 GIFT CERTIFICATES AVAILABLE
Translator