Welcome to NATURESFACE ART
The Gallery of Australian Artist & Photographer Gerhard Hillmann.
Naturesface Art
Kookaburra Returns Back to birds, this one comes into our garden quite often. Although they are a very common sight they are still one of my favourite feathery creatures, which makes them a re-occuring theme throughout my artworks. ... See MoreSee Less
20 hours ago
View on Facebook
Handmade ARTCARDS
Blank on inside, minimal text on back, recycled paper envelope, high quality.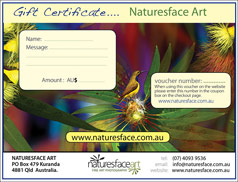 GIFT CERTIFICATES AVAILABLE
Translator