Welcome to NATURESFACE ART
The Gallery of Australian Artist & Photographer Gerhard Hillmann.
Naturesface Art
This photo is dedicated to all my friends in Adelaide who keep reminding me how hot it gets up here in the tropics? I took this shot last summer in adelaide in the shade. It was 46 degrees celcious and the snails were cooking in their shells, Birds were dropping out of the sky and when you saw a Koala you gave it water. ... See MoreSee Less
20 hours ago
View on Facebook
Handmade ARTCARDS
Blank on inside, minimal text on back, recycled paper envelope, high quality.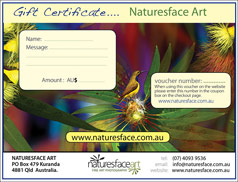 GIFT CERTIFICATES AVAILABLE
Translator