Welcome to NATURESFACE ART
The Gallery of Australian Artist & Photographer Gerhard Hillmann.
Naturesface Art
Fabric Patch Sale (while stocks last) Special Offer: 30% off price & FREE POSTAGE WORLDWIDE. Also receive a 17" x17" fabric print as a gift valued at $35 Purchase 12 or more fabric patches to be eligible. Simple enter the word BOXSET in the coupon box at checkout on my website to activate this special offer. 12 Farbric Patches only $49.98 note: Orders of 12 or more patches receive a 17" x17" fabric print as a gift valued at $35. We choose the colourful design as a gift for you-while stock lasts. To purchase any of these fabric patches please visit the website: www.naturesface.com.au Click below to view fabric patch designs. http://www.naturesface.com.au/shop/fabrics/regular-size-fabric-patches/cotton-fabric-patches-1-40 Fabric Patches Collection: 15cm (6") squares. 100% ORGANIC COTTON FABRIC PATCHES Ideal for Patchwork, quilting, embroidery, framing & other projects. size:15cm square (6inches) + 1cm white border ... See MoreSee Less
3 days ago
View on Facebook
Handmade ARTCARDS
Blank on inside, minimal text on back, recycled paper envelope, high quality.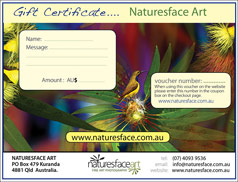 GIFT CERTIFICATES AVAILABLE
Translator