Welcome to NATURESFACE ART
The Gallery of Australian Artist & Photographer Gerhard Hillmann.
Naturesface Art
A female Eclectus parrot. Striking colours, beautiful creature. Not sure if I will be releasing any of these new designs on fabric. People are already telling me I have too many designs to choose from. ... See MoreSee Less
4 days ago
View on Facebook
Handmade ARTCARDS
Blank on inside, minimal text on back, recycled paper envelope, high quality.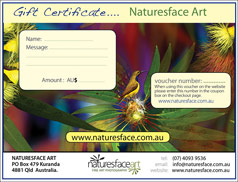 GIFT CERTIFICATES AVAILABLE
Translator