Eucalypt Dream Set
This series is made entirely using eucalyptus leaves, the blossums and is my feature fabric set of 2014. Iconic Australiana created with a universal theme of the mandala to keep it balanced. There are 28 different designs on this fabric panel, which measures (140cm x 92cm). I have created this panel to be used in a quilt, but it can also be used as a wall hanging or other creative projects.
(100% Organic Cotton Sateen).
space maker
click on fabric panel below to enlarge.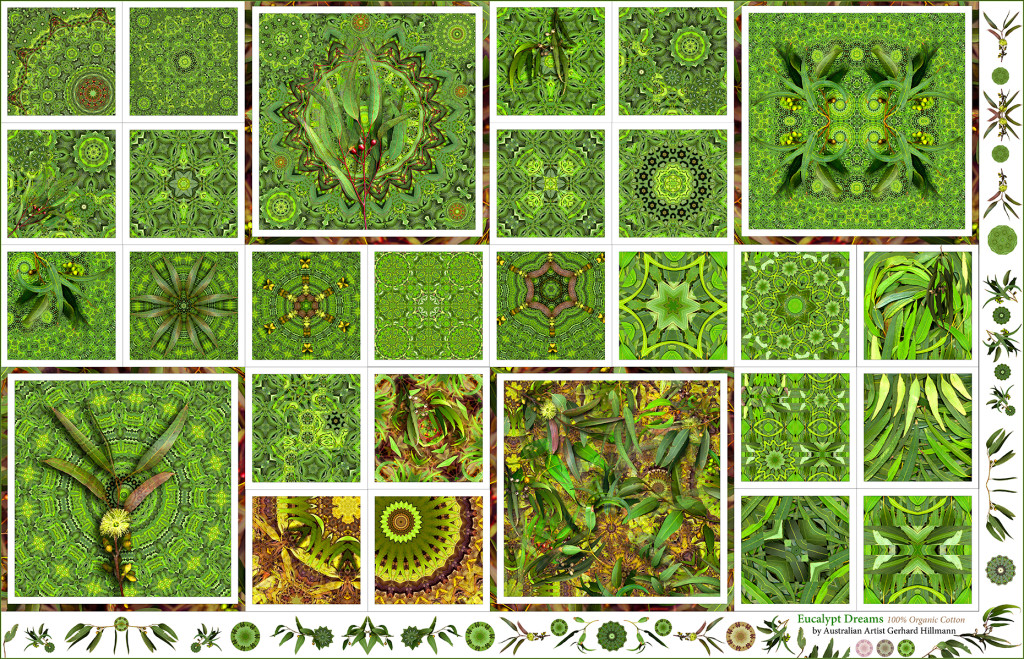 This fabric panel includes 28 different designs.
24x square fabric patch squares 15x15cm (6″)
4x large feature artworks measuring 30x30cm (12×12″)
note:All designs have a 1cm white border around the image.
space maker
Printing:
Eco-friendly textile printing.
Washing:
Machine wash warm or cool using phosphate-free detergent.
100% Organic Cotton:
Certified by Global Organic Textile Standards (GOTS).
space maker
space maker
Eucalypt Dreams Panel
code: EDC1
material: 100% Organic Cotton Sateen
FREE POSTAGE WORLDWIDE & FAST DELIVERY.