Awards
In 2002 I entered 3 art and design competitions and was fortunate enough to win two of them. However, since then I have not participated in any more. I prefer to let my artwork be appreciated as creative expression and not judged in a compettative environment.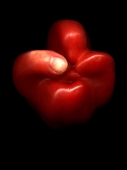 2002 Gold Prize Nagoya International Design Competition (Japan) prize: 500,000Yen and expenses paid trip to Nagoya, Japan to attend a 10 day design course.
2002 Acquisitive Art Prize, Darebin Contemporary Artprize, Melbourne (Australia)

Mr Kazu Kawasaki a designer from Japan and a judge in the Nagoya International Design Competition had this to say regarding the art piece Hand-Y-Cap.
"As opposed to works that expressed mere fragility, works that directly proposed some problems or works that challenge us were selected in this competition, themed fragility. Take the work that received the gold prize "Hand-Y-Cap", for instance. In the beginning, this work made me feel sad some how. My first impression was that a handicapped person is deliberately exposing his/her own handicap. I even felt disgusted. However, I came to realize that the provocative expression inspiring such strong feelings to viewers is the attraction of this work.