Kingfisher Tide…limited edition artprint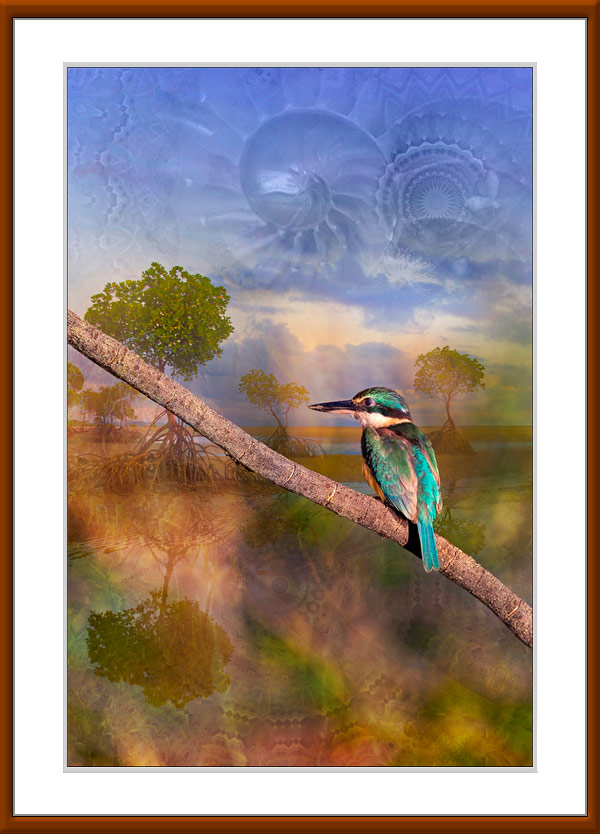 Kingfisher Tide
Limited edition pigment print, A portrait of the Sacred Kingfisher (Todiramphus sanctus). Mixed media artwork by Gerhard Hillmann. Fine art photography. This particular image is part of the 2014 collection.
I often see these little birds perched on branches when I am exploring coastal rivers up here in North Queensland. They are a pleasant colourful distraction from the sandflies and are more common during the winter months.
The sacred kingfisher (Todiramphus sanctus) is a medium sized kingfisher with a turquoise back, turquoise blue rump and tail, buff-white underparts and a broad cream collar. There is a broad black eye stripe extending from bill to nape of neck. This bird inhabits woodlands, mangroves, open eucalypt & melaleuca forest.
Kingfisher Tide
limited edition of 99

Archival Pigment Print.
Signed, Embossed & Numbered. (Includes certificate of authenticity).
FREE POSTAGE WITHIN AUSTRALIA.
Please contact us for international postage quotes.